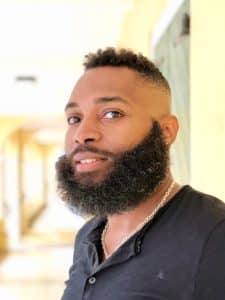 Kemit-Amon Lewis was born and raised on the island of St. Croix in the US Virgin Islands. He received his Bachelor and Master of Marine Sciences Degrees at Savannah State University in Savannah Georgia.His knowledge of marine sciences and conservation extends from his studies at Savannah State; supported through NOAA's Living Marine Resources Cooperative Science Center. Kemit also worked for the University of the Virgin Islands Marine Science Center on St. Thomas prior to returning to St. Croix to join the Coastal Zone Management Program. There, he worked to help developers avoid, minimize, and/or mitigate for environmental impacts caused by coastal development projects. More importantly, Kemit was introduced to coral reef restoration while at CZM and was a part of the team that developed the policy to ban the use of gilland trammel nets in the USVI.
Kemit was previously the Coral Conservation Manager for The Nature Conservancy's Caribbean Program. In that role, he managed the region's work on coral reef restoration – providing technical guidance and training to programs in the US Virgin Islands, The Bahamas, British Virgin Islands, Grenada, Cuba and China. In 2017, he observed the spawning of elkhorn corals that he transplanted on St. Croix – to date, the highlight of his career. He also managed the Conservancy's Sea Turtle Recovery Project at the Jack and Isaac Bay Preserve on St. Croix and developed the USVI Reef Resilience Program. Through the program, a number of outreach andstewardship programs were developed, including a BleachWatch citizen science program, a "Reef Responsible" sustainable seafood campaign, and a PADI Coral Nursery and Restoration Specialty Course. The underlying philosophy for his work is that by reducing anthropogenic stress while recovering critical species and restoring "resilient" sites, you can conserve marine life, protect the local tourism product, and preserve a culture's commercial, recreational, and spiritual value for the ocean.
Surviving a near death experience and multiple amputations in 2019, Kemit is excited to return to the field that brings him the most joy. He enjoys travel, tennis, dance, photography, the arts, and, of course, anything ocean.

We create and manage coral restoration practices within organizations and businesses throughout The Bahamas and the Caribbean. Our goal is to help organizations and businesses see how coral restoration benefits the educational, recreational, economic and scientific agendas of the entire region.