Last month, we took to sea once again to combat the deadly underwater plague, SCTLD, in Abaco's renowned Sandy Cay Reef. At the forefront of this mission were Dr. Valeria Pizarro, Meghyn Fountain, Kandize Mcphee and Taylor Walters, members of our coral response team. Alongside them was Will Greene, a specialist in photogrammetry, providing invaluable support in capturing high-resolution imagery of the corals.
Our team embarked on their journey aboard the Andromeda, a 62-foot catamaran provided by Barton & Gray Mariners Club. At the helm were Captains Davis Alford and Devan Rose, seasoned mariners from the International Seakeepers Society's Discovery Yacht Program (and one of our incredible partners at the Perry Institute). This wasn't the first collaboration between PIMS and the experienced captains; they had recently guided our team to North Andros just a few months ago, where we performed a comprehensive assessment of the island's eastern coral reefs.
On this latest trip, the team spent four grueling days treating corals infected with Stony Coral Tissue Loss Disease (SCTLD) – a lethal affliction that's decimating coral populations throughout the region. Toni Lohroff, the Education Manager from Seakeepers, joined this venture, observing and documenting the complex process of coral reef evaluation and treatment.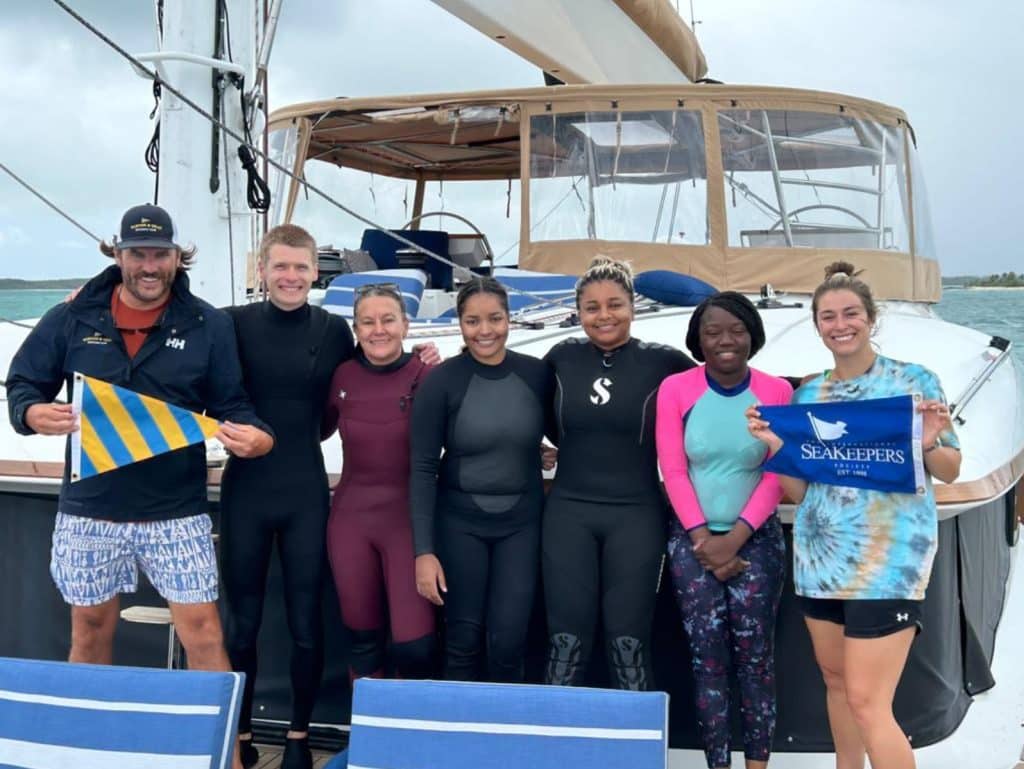 Sandy Cay Reef is a dazzling gem nested within the Pelican Cays Land and Sea Park in Abaco. In this national park, many tourists and locals travel from near and far just to visit this unique, protected reef; but sadly, Sandy Cay is now under enormous threat from this flesh eating coral disease. Upon discovering SCTLD there last month, our coral response team treated as many corals as they could but quickly realized they needed more hands on deck due to the alarmingly rapid spread of SCTLD throughout reef tract.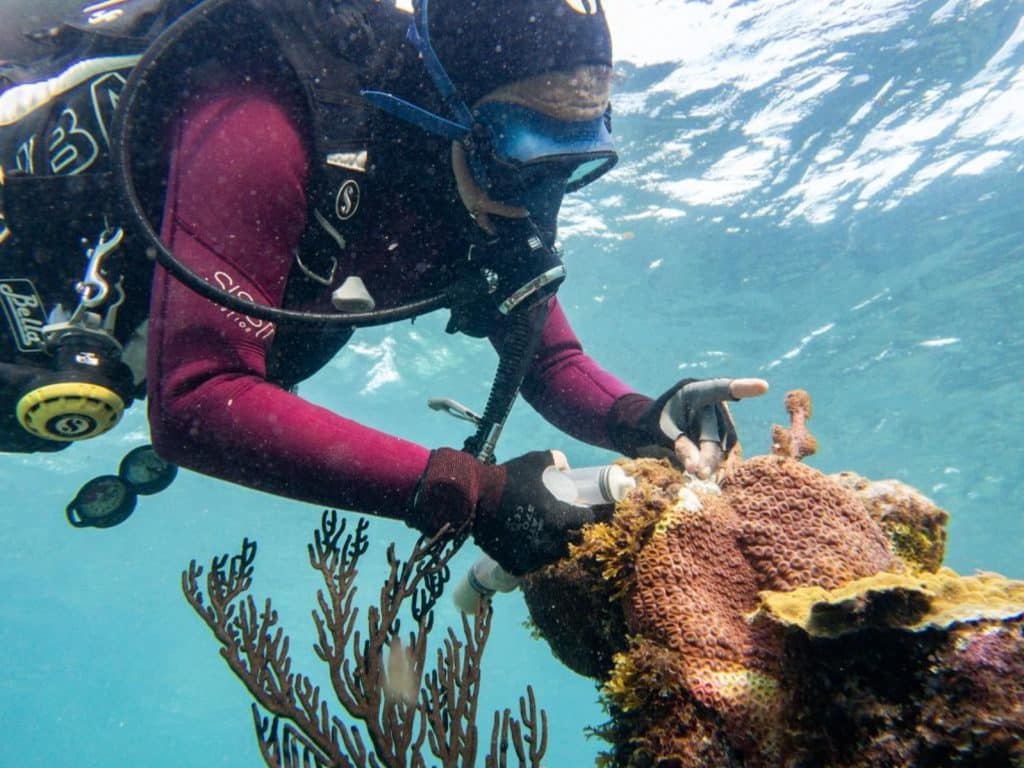 Despite the less than ideal weather conditions, our team pressed on, managing to cover a lot of ground by treating more than 200 corals. Will was also able to perform photomosaics and monitor plots around Sandy Cay while Toni had the opportunity to snorkel and dive during the days to capture photos and videos of the team during treatments. Some of the species that they treated included the Pillar Coral (Dendrogyra cylindrus), Mountainous Star Coral (Orbicella faveolata), Symmetrical Brain Coral (Pseudodiploria strigosa) and many more susceptible species. It was once again heartbreaking to dive amongst so many corals that took many years to grow but are now dying rapidly due to this disease. However, it was also refreshing to see marine life in its natural habitat. They saw spotted eagle rays, turtles, and a variety of fish that call this site their home.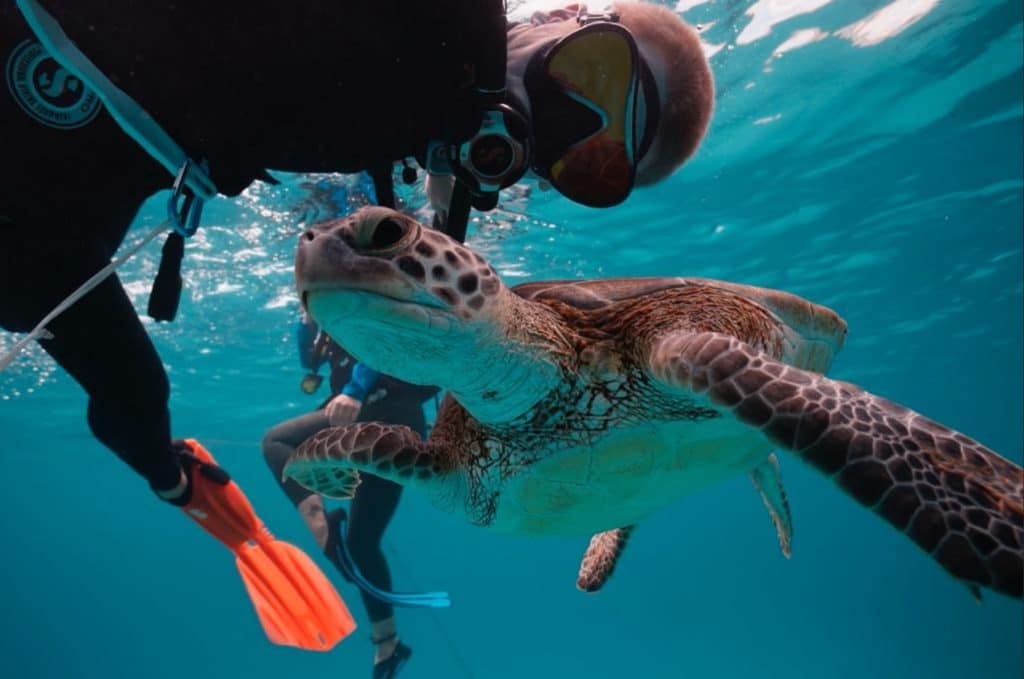 We would like to thank Seakeepers' Discovery Yacht Program once again for giving us the opportunity to work alongside Captain Davis and Devan aboard the Andromeda (Barton & Gray Mariners Club). Our team worked hard and efficiently during those four days to treat as many diseased corals as they could. To continue our treatments, and stop the spread of SCTLD to one of the most important reefs in The Bahamas, we eagerly anticipate our return to Sandy Cay in the near future.
Even though our Coral Response Team had a short time to complete a major task they will continue to monitor this site, treat corals that are infected with SCTLD and spread the awareness of this aggressive disease that is currently destroying our marine ecosystem. Make sure to stick around and follow our social media pages (@perryinstituteformarinescience) for more updates and reports as we continue the fight against Stony Coral Tissue Loss Disease.