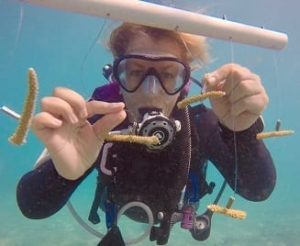 Hayley-Jo Carr (she/her) is a marine conservationist and PADI Course Director who has taught a wide range of programs in a variety of countries. With a BA (hons) in Sport & Recreation Studies with Community Studies, her focus has been on community engagement within the marine environment. She has been the driving force behind many projects involving sharks, sea turtles, marine debris & coral restoration. Hayley works with divers, schools, organizations and businesses to help develop their marine programs and events. As a PADI Course Director, Hayley trains new scuba diving Instructors with an emphasis on marine conservation, so they gain the necessary knowledge to teach specialty marine programs.
Hayley is currently the Coordinator for The Reef Rescue Network with more than 40 Coral Restoration projects throughout the Caribbean. These coral nurseries are helping to rehabilitate coral reefs and restore critically endangered species. The projects benefit local communities that depend on a healthy ocean. She authored the PADI Reef Rescue Diver Course, which is being taught throughout the Reef Rescue Network to allow recreational divers to have hands on experience assisting with coral restoration activities. Hayley works with hundreds of volunteers to organize events, training and education sessions and works closely with funders, NGOs, private businesses, dive shops, tourists and local government.
Hayley is currently studying for her MSc in Biodiversity, Wildlife and Ecosystem Health at the University of Edinburgh to compliment her work within marine conservation.
For more information on the Reef Rescue Network, contact her at hayley.carr@perryinstitute.org

We create and manage coral restoration practices within organizations and businesses throughout The Bahamas and the Caribbean. Our goal is to help organizations and businesses see how coral restoration benefits the educational, recreational, economic and scientific agendas of the entire region.