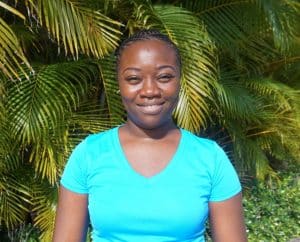 Meet Kandize McPhee, one of our Coral Technicians!
‍Kandize graduated in early 2021 with a bachelor's in Small Island Sustainability with a focus in Marine Science at the University of The Bahamas. During the summer of 2021, she interned at the Perry Institute for Marine Science (PIMS) and worked with Dr. Krista Sherman on the "Impacts of Invasive Lionfish Species in the Mangrove Ecosystems and their Effects on Native Fish Populations". This summer, she interned as a research assistant alongside Dr. Karlisa Callwood on "The Role of Subsistence Fishing in The Resilience of Island Communities During The COVID 19 Pandemic".
‍With the information that Kandize is learning on the Coral Response Team at PIMS, she plans to contribute her knowledge to others which can hopefully spread the word to help keep the marine habitats healthy. She believes that corals are very essential to The Bahamas and has many benefits which includes providing homes and a sanctuary for various species and also supporting our tourism industry by attracting tourists from all over the world. She also believes that we rely heavily on them for food, jobs, and coastal protection from wave threats.Therefore, we should protect them not only for ourselves but also for the future generation.

We create and manage coral restoration practices within organizations and businesses throughout The Bahamas and the Caribbean. Our goal is to help organizations and businesses see how coral restoration benefits the educational, recreational, economic and scientific agendas of the entire region.