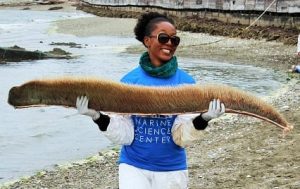 Dr. Karlisa Callwood is a marine scientist and educator who focuses on interdisciplinary approaches to evaluating fisheries and conservation management. She is interested in establishing practices to enhance science education, particularly for persons from undeserved communities. Callwood is also passionate about creating strategies to better bridge the gaps that exist between scientists, policymakers, and the public through informal science learning and interdisciplinary approaches.
Callwood has over a decade of experience developing and managing informal science education programming. She has created and overseen the implementation of a variety of science programs and grant projects at organizations like the Frost Museum of Science, the Deering Estate at Cutler, Breakthrough Miami, the Port Townsend Marine Science Center, and the Pacific Science Center. This includes the management of several programs focused specifically on engaging students from underrepresented and underserved communities in the sciences.
A native of the U.S. Virgin Islands, Callwood graduated from the University of Miami with a B.S. in Marine Science and Biology, an M.S. in Marine Affairs and Policy and a Ph.D. in Ecosystem Science and Policy with a focus on interdisciplinary studies of fisheries management, conservation and sustainability. Her wide-ranging dissertation examined the natural and anthropogenic factors that influence the Bahamian Spiny Lobster fishery, including:
The role of condos as a collection method;
The dispersal and connectivity of spiny lobster larvae throughout the Caribbean;
The bioeconomic impacts on the fishery; and
The perceptions of all the stakeholders involved.
The project explored how all of these elements interact to create and define the fishery, including the implications of this convergence on overall management.
Callwood's current research is focused on the socio-economic dynamics and fisher perceptions of an emerging parrotfish fishery in The Bahamas.

We create and manage coral restoration practices within organizations and businesses throughout The Bahamas and the Caribbean. Our goal is to help organizations and businesses see how coral restoration benefits the educational, recreational, economic and scientific agendas of the entire region.