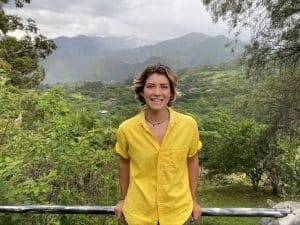 Maya Gómez (she/her) is a Research Assistant at the Perry Institute for Marine Science. Her work focuses on data collection and analysis in order to better understand and monitor coral reefs. This information helps to inform conservation efforts as coral reefs face threats of disease, climate change, and other anthropogenic stressors. She has been very involved with the development and trial of novel photogrammetry technology that allows for the completion of ex situ surveys of coral reefs. Maya is excited to join the research team in upcoming research expeditions as well.
Maya grew up on an isthmus in Madison, Wisconsin. She spent most of her childhood in water, whether that be lakes, highly chlorinated pools, or the occasional saltwater exploration. She began swimming competitively at the age of 4 and continued though college. She graduated from Middlebury College in Spring of 2020, with a BA in Biology and Spanish. Maya's undergraduate research focused on the desiccation tolerance of Syntrichia caninervis moss, a moss that can be found growing along a precipitation gradient in the Mojave Desert. Maya is passionate about Environmental Education and hopes to intertwine this more into her work.
Maya was first introduced to the Perry Institute for Marine Science through an Advanced Field Biology course offered in collaboration with Middlebury College. This course provided Maya with the opportunity to gain first hand diving and field experience, and helped to turn her curiosity and passion for coral reef research and conservation into a reality. She began working with PIMS in late 2020. Maya hopes to attend graduate school in the fall of 2022 to continue her studies, and specifically hopes to examine corals and their symbiotic relationship with zooxanthellae.

We create and manage coral restoration practices within organizations and businesses throughout The Bahamas and the Caribbean. Our goal is to help organizations and businesses see how coral restoration benefits the educational, recreational, economic and scientific agendas of the entire region.