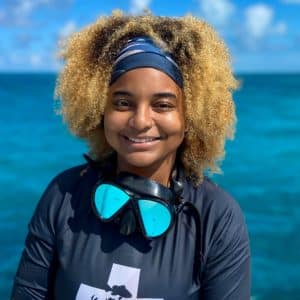 Meghyn is a research assistant and key member of the coral reef team here at the Perry Institute! Growing up in The Bahamas, Meghyn has always felt captivated by the ocean and its myriad of wonders.
‍To pursue her dreams, she studied at Dalhousie University in Canada, where she received her Bachelor's degree in Marine Biology with a certification in Aquaculture and the Environment. There, she studied everything from seaweed aquaculture, microscopy, habitat biodiversity, succession in ecology and gene expression. She even learned to simulate a mussel aquaculture farm using the coding softwares, R and Python.
‍Meghyn's main role at PIMS is assessing and treating Stony Coral Tissue Loss Disease (SCTLD). She is a part of our SCTLD task force and has been training our new staff alongside Dr. Pizarro.
‍Before PIMS, she worked at Dolphin Encounters and volunteered at Dolphin Experience, both of which are in The Bahamas. At these facilities she learned more about dolphin husbandry and behaviors; she also fell in love with these intelligent marine mammals. Meghyn has also interned at Coral Vita, whose work is centered around conservation of Caribbean coral species that have declined because of climate change. While there, she conducted scientific experiments, studied and identified corals (and other marine animals), as well as built and maintained land and underwater nurseries.

We create and manage coral restoration practices within organizations and businesses throughout The Bahamas and the Caribbean. Our goal is to help organizations and businesses see how coral restoration benefits the educational, recreational, economic and scientific agendas of the entire region.