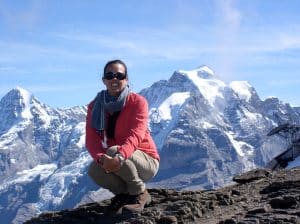 Michelle T. Schärer is a marine ecologist graduated from the Department of Marine Sciences, University of Puerto Rico at Mayagüez with a PhD in Biological Oceanography. For her dissertation she investigated the landscape ecology of coral reef fishes at the Mona & Monito Island MPA in 2009. Since then, she has collaborated with multiple agencies, academia and private organizations in interdisciplinary research, environmental monitoring, fisheries science, biological research and the development of management plans for MPAs and marine reserves in Puerto Rico.
Her main research interests are ichthyology, coral reef ecology, environmental and fisheries sciences, hydroacoustic techniques, GIS and conservation practice. Experiences include the certification of sustainability for a small-scale spiny lobster fishery in Brazil, leading the environmental NGO, Amigos de Amona in marine debris removal and habitat restoration projects, participation in fisheries management in the US Caribbean, the use of passive acoustic methods to monitor fish spawning aggregations, the monitoring and conservation of threatened and endangered species in Puerto Rico and the USVI, marine protected areas and environmental education.
Recent research projects completed include measuring MPA effectiveness off western Puerto Rico, an assessment of grouper sustainability, and measuring the abundance of elasmobranchs in coral reefs around Puerto Rico. Her bi-lingual written and spoken abilities are key in the transfer of information between local Spanish speaking managers and federal agency managers (mostly English speaking) to engage partners in fishery independent research projects. She has been an active board member of the Gulf and Caribbean Fisheries Institute during the past 5 years, a member of the local fisheries advisory board to the Puerto Rico Department of Natural and Environmental Resources, she also serves on theCaribbean Fishery Management Council's Scientific and Statistical Committee and is a member of the Spawning Aggregations Working Group of WECAFC (FAO).

We create and manage coral restoration practices within organizations and businesses throughout The Bahamas and the Caribbean. Our goal is to help organizations and businesses see how coral restoration benefits the educational, recreational, economic and scientific agendas of the entire region.