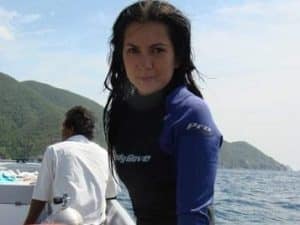 Natalia Hurtado (B.Sc, M.Sc.) is a marine biologist who grew up in Bogotá (Colombia), but home for her has always been tied to the sea. Her love for the sea started as a child in 1995, when she saw the wonders of coral reefs for the first time. Hurtado has been involved with coral reef ecology and coral restoration projects for more than 10 years. She has experience in marine sciences and research in Colombia, The Netherlands, Bonaire, Curaçao and Qatar and she is highly convinced that coral reef restoration is a positive option to counteract the damage.
Hurtado completed a master's degree program in marine sciences focused on coral restoration. She participated in two internships offered by Wageningen University in The Netherlands (Animal Sciences, Aquaculture and Fisheries Group) and in Bonaire (IMARES – Coral Restoration Foundation Bonaire).
Natalia Hurtado is also a PADI IDC Staff Instructor and has been actively working in the dive industry. She owned and managed a dive center for six years which cultivated her passion for teaching. Hurtado enjoys teaching courses for beginners as well as specialty courses. She also enjoys training new instructors.
Hurtado is currently based at Cape Eleuthera Institute, where she is working on coral reef restoration. She also combines research, education and outreach at The Island School. She is currently applying different coral husbandry techniques and is hoping to help rehabilitate threatened coral populations in the Bahamas.
In her free time, Hurtado enjoys traveling, biking, dancing, freediving and technical diving.

We create and manage coral restoration practices within organizations and businesses throughout The Bahamas and the Caribbean. Our goal is to help organizations and businesses see how coral restoration benefits the educational, recreational, economic and scientific agendas of the entire region.