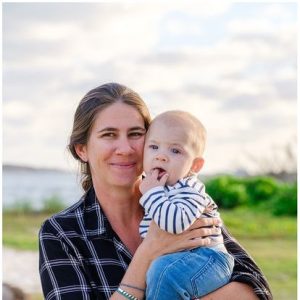 A 9th generation Bahamian, Olivia grew up in Hope Town, Abaco, grateful for a childhood close to nature. Olivia obtained a Bachelor of Science in Marine Biology from Florida Institute of Technology and a Master of Arts in Zoology with a concentration in environmental education and conservation through the Global Field Program at Miami University in Ohio.
Olivia is the Deputy Director of Friends of the Environment (FRIENDS), having been with the organization since 2006. She is passionate about conserving the environment for future generations of Bahamians and has been instrumental in partnerships that led to the designation of four protected areas in Abaco, building FRIENDS' education efforts, and developing and managing conservation projects. In the early years of the organization, Olivia was one of FRIENDS' first student members, as such, she has a direct appreciation for the value of environmental education and capacity building for Bahamian youth and strives to help create more opportunities for young Bahamians through her work at FRIENDS. Olivia is a Lyford Cay Scholar, and a member of the Bahamas Spiny Lobster Working Group (BSLWG), Nassau Grouper Core Working Group, and the National Biodiversity Committee. When she's not spending time with family (including 4 yr and 17 month old sons), she enjoys baking and cooking, making art, dancing, reading and beach combing.

We create and manage coral restoration practices within organizations and businesses throughout The Bahamas and the Caribbean. Our goal is to help organizations and businesses see how coral restoration benefits the educational, recreational, economic and scientific agendas of the entire region.