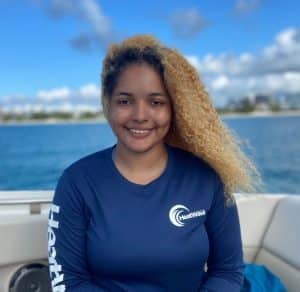 Taylor Walters is one of the Coral Technicians in the Coral Response Team at the Perry Institute for Marine Science (PIMS).Born and raised in The Bahamas, Taylor always had a connection with the ocean and its organisms which led her to pursue a higher education at the University of Tampa where she received a Bachelor of Science in Marine Science-Biology. Some of her favourite marine courses include marine invertebrate and vertebrate zoology, marine ecology, and biological oceanography.
‍Before working with the Perry Institute for Marine Science (PIMS), Taylor spent most of her time at the Florida Aquarium volunteering in the Animal Care and Health Department as a member of the animal husbandry team where she did daily animal care which included preparing diets and cleaning habitats. She also shadowed the biologists during animal training and applied knowledge and identified issues with the habitats through enrichment. During this experience, Taylor realized that habitats are of utmost importance for animal survival and she would do anything to ensure their protection.
‍Coral reefs are one of the most essential ecosystems in the ocean and are hosts to many crucial organisms. She believes that by joining the Coral Response Team as a Coral Technician, she can help prevent the drastic decrease in coral populations caused by the Stony Coral Tissue Loss Disease (SCTLD) which is a significant goal that can be achieved by working with PIMS.

We create and manage coral restoration practices within organizations and businesses throughout The Bahamas and the Caribbean. Our goal is to help organizations and businesses see how coral restoration benefits the educational, recreational, economic and scientific agendas of the entire region.