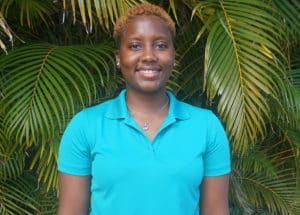 Teni Burrows is a coral technician at the Perry Institute for Marine Science focusing on Stony Coral Tissue Loss Disease. As a child born and raised in The Bahamas, Teni's fascination with all things water and animals culminated in her hobbies. On weekdays, she trained in competitive swimming with Dolphin's Swim Club, on weekends took trips to Goodman's Bay for snorkeling, and even on holidays she and her family would venture to Blue Lagoon Island to visit the dolphins. Her passions led her to pursue academic and technical achievements all centered in marine science.
‍After graduating high school Teni began earning her scuba diving certifications and has since advanced to Rescue Diver status with the hope of continuing on to Divemaster in the near future. In early 2022 she earned a bachelor's degree in Marine Biology at the University of the West Indies in Kingston, Jamaica. Her field studies of the coral reef systems off of Port Royal, Jamaica is what sparked a deeper interest to further study the diversity, abundance and beautiful adaptations of corals.
‍First introduced to (PIMS) in June 2022, Teni was recruited to participate in the CCEA's summer internship program where she focused on Science Communications & Digital Media under our Communications Director Lily Haines and CCEA's Director Dr. Karlisa Callwood. Responsible for capturing the Rising Tides program's learning journey through social media and blog posts, she used the opportunity to develop her underwater photography and videography skills as well as honing her techniques as an effective science communicator. In October, she officially joined the Coral Response Team as PIMS, wherein she conducts reef health assessments and SCTLD treatments across The Bahamas.

We create and manage coral restoration practices within organizations and businesses throughout The Bahamas and the Caribbean. Our goal is to help organizations and businesses see how coral restoration benefits the educational, recreational, economic and scientific agendas of the entire region.