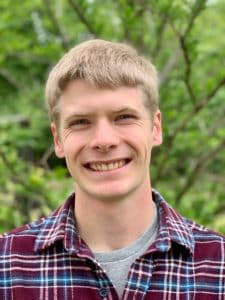 Will Greene is a Research Associate at the Perry Institute for Marine Science, specializing in geographic information systems (GIS), coral reef photogrammetry and 3D modeling. He is based in Burlington, Vermont, but often joins the research team in The Bahamas to participate in field work. His goal is to use technology to advance science and to inspire the public to care about the environment and conservation. While underwater, Greene spends most of his time behind a camera. He takes thousands of photos that are stitched together into ultra-high-resolution maps of reef sites.
Greene began working with PIMS in early 2019. He has applied his GIS and photography skills to assist in the development of a photogrammetry program to document reef conditions and supplement the institute's field research. He joined the team full-time in June 2020 and is excited to bring his passion for conservation, marine biology, photography, and GIS together to help protect Bahamian reef ecosystems. He aims to help move the institute's data collection process forward by transforming it into a unified geospatial workflow. This will create new opportunities to analyze and share data with the public and our partners.
Greene grew up on Mount Desert Island in Downeast Maine. This was where he developed a love for the ocean, conservation, and biology as he spent most of his free time exploring Acadia National Park. He also spent summers working for Friends of Acadia as a biological field technician, science communicator, and photographer. He graduated from Middlebury College in May 2019 with a BA in biology and environmental science and served on the faculty there for the 2019-20 school year as an assistant instructor of geography. His time as a faculty member allowed him to share his passion for GIS and mapping with students. Greene learned to dive when he was 10 years old, but it was a coral reef ecology course at Middlebury that fostered his deep love for marine science. That course was taught in part by Dr. Craig Dahlgren, PIMS's Executive Director. When he's not behind a camera or a computer, you'll probably find him outside hiking, running, biking, or skiing with friends.

We create and manage coral restoration practices within organizations and businesses throughout The Bahamas and the Caribbean. Our goal is to help organizations and businesses see how coral restoration benefits the educational, recreational, economic and scientific agendas of the entire region.